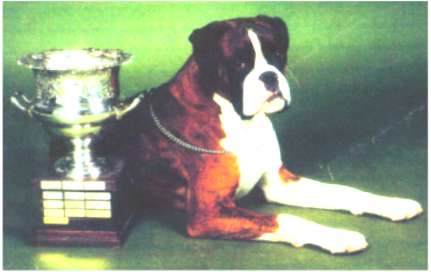 Eier/Owner: Sjur Hall - Monolitten's Boxers, Oslo
Oppdretter/Breeder: Gill og Dennis Simpson - Triglyph Boxers, UK
SORCY er en boxer som har skrevet sitt navn inn i norsk hundehistorie med gullbokstaver, ikke bare på grunn av sin ubestridte skjønnhet, men også som en fantastisk avlshund.
SORCY ble Årets Hund i 1988 - årets mestvinnende hund uansett rase ved NKK's internasjonale utstillinger - Han avsluttet sitt fantastiske år med å bli BEST IN SHOW på Sjølyst og ga enhver tilstedeværende boxerentusiast et minne for livet.

SORCY produserte ikke mindre enn 37 norske, flere svenske og internasjonale champions. Dette er en rekord ingen annen avlshund uansett rase har vært i nærheten av. Det må også tilføyes at vår nest beste avlshund gjennom tidene INT N SF UCH NORD V-83 KITWE OUT OF THE BLUE med sine 17 norske, flere svenske og internasjonale champions spilte en avgjørende rolle i Sorcys rekord da flesteparten av Sorcys champion-avkom var etter døtre av Blue.

Hans avkom var ikke bare vakre, de hadde også sine tjenestehund egenskaper i orden da et imponerende antall av dem bestod funksjonsanalyse.
SORCY
was a dog in a million, not only because of his outstanding looks which made him Dog of the Year all breeds in Norway in 1988, but also on account of his unparalleled achievements as a stud dog.

He sired no less than 37 Norwegian champions and several Swedish and International champions. A record no other stud dog have even come close to. However the second most-producing stud dog in history in Norway, Ch Kitwe Out of the Blue, who produced 17 Norwegian champions, also play an important role in this amazing achievement as the majority of Sorcy`s champions were out of daughters of "Blue". If Sorcy was a dog in a million, this truly was a match in a milllion.
The resulting puppies were not only good looking, they were also mentally sound, as an impressive number of them passed the working ability test (funksjonsanalyse)!.
N CH NORD V-87 NV-88 TRIGLYPH THE SORCERER

Lynpine Tinoko
Arko of Lynpine
Aroek v. Rusticana
Donja v.d. Gouduleugel
Lynpine Katie
Tinga v. Rusticana
Lynpine Golden Fleece
Triglyph Witchcraft
GB.CH. NORWATCH O'TOOLE OF RAYFOS
GB.CH. STEYNMERE NIGHT RIDER
Norwatch Mustang Wine
Emjaycee Onyx
GB.CH. KINBRA UNCLE SAM OF WINUWUK
Rollright Ria