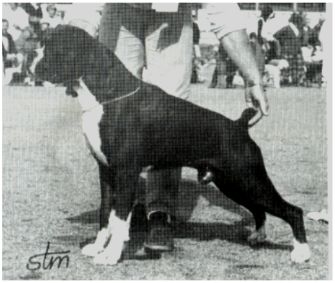 Eier/Owner: Sjur Hall/Monolitten's Boxers, Oslo
Oppdretter/Breeder: Lynette Davey/Kitwe Boxers, UK

"Blue" er far til stammoren i vårt oppdrett; INT N S UCH LARUN YOUR CHOICE.
Etter flere topplasseringer i England med bl.a. CC kom han i 1982 til Norge. Sammen med sin eier og handler Sjur Hall hadde han en fantastisk utstillingskarriere. I tillegg til sine titler var han også Årets Boxer og Årets tjenestehund på Bamselisten i 1983 og -84.

"Blue"s far er en av Englands største avlshunder gjennom tidene; GB.CH. Gremlin Summer Storm.
"Blue" fikk som avlshund stor betydning for rasen i Norge. Spesielt produserte han meget bra på våre elegante tisper med amerikansk bakgrunn, han hadde den nødvendige tyngde og masse vi trengte. Han ble far til totalt 17 norske champions også med svenske og internasjonale titler.

Med ham fikk rasen et oppsving som også fortsatte med Sjur Halls neste engelske import; N UCH NORD V-87 NV-88 TRIGLYPH THE SORCERER "Sorcy".
"Blue"s døtre kombinert med "Sorcy" ga utrolig mange boxere av meget høy internasjonal klasse.
"Blue" was the sire of our foundation bitch; INT.N.S.CH. LARUN YOUR CHOICE.
This impressive boxer arrived in Norway in 1982. Before leaving his native land he had been awarded a challenge-certificate. But that was nothing compared to what was to come. With his owner and handler Sjur Hall in the other end of the lead, he enjoyed a fantastic show career. In addition to his titles he also was Boxer of the Year and working dog of the Year in 1983 and -84.

"Blue" was the son of GB.CH. Gremlin Summer Storm, one of England`s most influential sires of all times.
"Blue" had a huge impact on the breed in Norway, siring a total of 17 Norwegian champions, and also several Swedish and international champions. He particularly seemed to "click" when mated to the in some cases too elegant bitches of predominately American breeding. With his heavy build, "Blue" could add the necessary strength to these bitches offspring.
Sjur Halls next English import; N.CH.NORDIC W-87 NW-88 TRIGLYPH THE SORCERER "Sorcy", were also to play an important role in the tale of Blue and his offspring as "Blue"s daugthers when put to "Sorcy" produced numerous boxers of high international quality.
INT N SF CH NORD V-83 KITWE OUT OF THE BLUE

GB CH
GREMLIN
SUMMER
STORM
Gremlin
Famous Footsteps
GB CH SUMMERDAL SHADOW
Gremlin Walk On
Gremlin
Mere Magic
Gremlin Catch Fire
Gremlin Catch the Dawn

Kitwe
Blue
Magic

Kitwe
Blue Mink
INT CH SEEFELD PICASSO
Willright Copper Velvet
Landor
Black Music
Faerdorn Impressionist
Black Velveteen of Landor