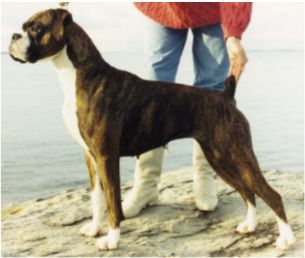 Meget sjenerøst ga Unni Vestrheim (Kennel Larun) oss førstevalget i sitt Y-kull. Forutsetning var at vi foretok valget selv, uten noen hjelp fra den erfarne oppdretteren.

En slik mulighet hadde vi aldri hatt, men som relativt fersk i rasen var vel sannsynligheten for at vi skulle velge den beste heller liten.
Etter noen varme formiddagstimer i hagen på Lillestrøm bestemte vi oss for tispen med litt skjeve tegninger i hodet og lot kullsøsteren med de symmetriske tegningene bli igjen hos Unni. Unni var nok litt overrasket over vårt valg, men beholdt masken relativt godt. Med Lars' avskjedsord; "DEN valpen får du mye glede av" reiste vi hjem til Stavanger med Tia som Unni ga navnet; Your Choice.

Tia's far var Sjur Halls (Monolitten's Boxers) første markante import, den imponerende
INT N SF UCH NORD V-83 KITWE OUT THE BLUE. Han produserte totalt 17 norske champions, en rekord som bare er slått av en annen av Sjur Halls importer N UCH NORD V-87NV-88 TRIGLYPHT THE SORCERER, Sorcy. Men Blue hadde også en pote med i mange av champion-avkommene til Sorcy da flere av dem var etter døtre av Blue.

Tia's mor er N UCH LARUN KALINKA. Hun er et av de mange championavkom etter den kjente kombinasjonen
CAN AM N UCH MEPHISTOS INTERMEZZO og LARUN ELEKTRA.

Som man ser av Tias tittelrekke levde hun så absolutt opp til forventningene vi hadde til henne som liten valp. I tillegg bestod hun:



Funksjonsanalyse som boxer nr. 2 i Norge


NKK's kåringsprøve for tjenestehunder


Hun ble dessuten den først norskoppdrettede og -eide boxeren med svensk utstillingschampionat
Hun satte også spor etter seg i valpekassen.



Unni Vestrheim (Kennel Larun) generously enough let us choose freely from her Y-litter when we in 1985 decided to extend the family with another boxer. The condition was that we made our choice entirely without the assistance of the experienced breeder.

This was a first in the lifetime-experience for us, but as we were relatively new to the breed the odds were against us choosing the pick of the litter.
After having studied the litter during a hot summer morning in the kennel garden, we finally ended up with the bitch with the unsymmetrical markings in the head. Leaving the very similar bitch with symmetrical markings with the breeder. Unni seemed somewhat surprised over our choice, but managed to hold her tongue. With her husband`s final words; "THAT puppy will bring you a lot of happiness " ringing in our ears, we departed with Tia whom Unni rightly named; Your Choice.
Tia`s sire was Sjur Halls (Monolitten's Boxers) first major import, the outstanding INT N SF CH NORDIC W-83 KITWE OUT THE BLUE. Who sired a total of 17 Norwegian champions, a record only beaten by another of Sjur Halls imports N CH NORDIC W-87NW-88 TRIGLYPHT THE SORCERER Sorcy. But Blue even had a hand in the champions sired by Sorcy as the better part of them came out of daughters of Blue.
Tia's dam was N CH LARUN KALINKA, one of many champions from the succesfull combination of CAN.AM.N.CH. MEPHISTOS INTERMEZZO and LARUN ELEKTRA.
As Tia`s titles will show she fully lived up to our and her breeeder's expectations. She also passed:



The working ability test (funksjonsanalyse) as the second boxer in Norway


The Norwegian Kennel Clubs Obedience test for working breeds (NKK's kåringsprøve for tjentestehunder)


She also became the first Norwegian owned and bred boxer to become a Swedish champion
She also proved to be quite a dam . . .
INT N S UCH LARUN YOUR CHOICE
f. 18.05.85

GB CH
GREMLIN
SUMMER STORM

Gremlin Famous Footsteps

Gremlin Mere Magic

Kitwe
Blue Magic

Kitwe Blue Mink

Landor Black Music

INT CH MILLANS
FASHION HINT

CAN.CH.SCHER-KHOUNS
AUTUMNS CONCERTO

Boxellas Jeremiah

Larun Debezee