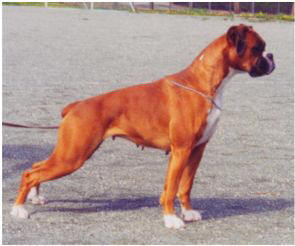 Cherry er vår engelske rose. Hun er resultatet av en fin blanding av de beste engelsk og kontinentale linjer og ble i hovedsak innkjøpt av avlsmessige grunner. På den ene siden tilførte hun kennelen kvalitetene ved den klassisk kontinentale hodetypen samtidig som hun var nært beslektet med faren til vårt A-kull.

Alle som kjenner boxeren vet at det er en intelligent rase - Cherry er intet unntak. Hun ligger over gjennomsnittet, selv om slikt er vanskelig å bevise. Kanskje det beste beviset er hennes avkom - flere ganger er det kommet tilbakemeldinger fra eierne av hennes valper som har gjort seg de samme tanker.

Hun er lite utstilt, faktisk bare 5 ganger noe som resulterte i 5 x 1.premier/cert/ck. Hun rager bare 53.5 cm over bakken, altså bare 0,5 cm over minstemålet for en boxertispe. Jeg følte hver gang jeg stilte henne at hun "ble borte" blant sine konkurrenter som var større, men ofte av dårligere kvalitet enn min lille Cherry.

Cherry kan se tilbake på 3 valpekull. Vel 50% av avkommene har oppnådd cert/ck og døtrene N UCH
REXOB GLORY WITCH og N UCH REXOB JACKPOT er norske utstillingschampion. 50% av hennes avkom har forsøkt karaktertest eller funksjonsanalyse og samtlige har bestått, noe vi er svært stolte av.

Cherrys far; SP CH JANOS DE LOERMO OF LYNPINE er som navnet viser oppdrettet av den kjente spanske kennelen LOERMO. Han er importert til England av Charles Walker/LYNPINE BOXERS og har gitt flere avkom av høy klasse bl.a. tispen GB CH SHILOH DOODLEBUG.

Cherrys mor er GB CH TRIGLYPH HAZELNUT WITCH. Hun er kullsøster av "vår egen" N UCH NORD V-87 NV-88 TRIGLYPH THE SORCERER.



Cherry is our English rose. She is the result of the finest blend of English and continental bloodlines, and was mainly bought for breeeding purposes. On the one hand she could provide us with a touch of the classical continental head qualities, at the same time Cherry was closely related to the sire of our A-litter, the Norwegian dog of the year in 1988 N CH NORD W-87 NW-88 TRIGLYPH THE SORCERER, as Cherrys dam GB CH TRIGLYPH HAZELNUT WITCH
was Sorcy's littersister.
But our little rose also has other qualities. As all boxer-enthusiasts are well aware of, the boxer is an intelligent breed. - Cherry is no exception. We even suspect her to be above average in this respect, even though this of course is difficult to prove. But it is a fact that owners of her puppies also have noticed behaviour and actions they consider to be pretty smart for a dog.

Cherry is sparsely shown, in fact only five times, resulting in five firsts, one challenge certificate and one certificate quality. She hasn`t been shown more due to the fact that she only measures 53.5 centimetres, 0,5 centimetres above the minimum height for bitches. On every occasion I felt that she " was lost" between her competitors, who were taller but in many cases inferior to Cherry in quality.
Cherry is now a vigouros and healthy eight year old, though strangers find it hard to beliveve that the little energetic red bundle, hardly without a grey streak, is in fact a veteran. Breedingwise she is the proud mother of three litters. Statistically 50 percent of her offspring have been awarded challenge certificate or certificate quality, and her daughters N CH REXOB GLORY WITCH and N CH REXOB JACKPOT is Norwegian champions. 50 percent of her offpring have also passed either the character test or the working ability test. Every Cherry-offspring who have tried their paw at the mental tests have passed, not one of them have failed, a fact we are quite proud of.

Cherry`s sire is; SP CH JANOS DE LOERMO OF LYNPINE bred by the well-known Spanish boxerkennel LOERMO. He was imported to England by Charles Walker/LYNPINE BOXERS and has produced several high quality offspring, one of them being GB CH SHILOH DOODLEBUG.

TRIGLYPH CHERRY WITCH, født 07.06.92

SPANSK CH
JANOS
DE LOERMO
OF LYNPINE
NL CH
ELFO V WORIKBEN
Yorek v. Worikben
Gonja v. Worikben
NL CH
ELBA DE LOERMO
CH FANLAIR DE LA VERDIERE
Ouesta v.d. Hoeverbos
GB CH
TRIGLYPH
HAZELNUT WITCH
Lynpine
Tinoko
Arko of Lynpine
Lynpine Katie
Triglyph
Witchcraft
GB CH NORWATCH O'TOOLE
OF RAYFOS
Emjaycee Onyx