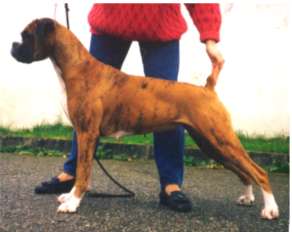 Sunny ble vår først boxer, hun kom til oss 28. mars 1984.

Sunny oppførte seg som alle valper burde gjøre - alltid trygg og glad. Bøkene om hundepsykologi fra tiden som cocker-eier kunne legges på hylla.

Som sagt hadde vi brukt mye tid på å finne en oppdretter som delte vår overbevisning om viktigheten av å gi valpene optimale "sosiale" forhold de første 8 viktige leveukene. Kennel Larun tilfredsstilte alle krav - Unni bodde nærmest på valperommet disse ukene!

Sunny fortsatte sin fine mentale utvikling til glede for seg selv og sine omgivelser En mer omgjengelig hund skal du lete lenge etter, og ulikt mange boxere elsket hun alle sine artsfrender. Da Norsk Schäferhundklubb avd. Rogaland skulle arrangere funksjonsanalyse i 1987 var det naturlig å la Sunny prøve. Hun bestod med glans og fikk dermed et skriftlig bevis på sin mentale helse - ikke mange har det - verken to- eller firbente! Sunny ble dermed første boxer i Norge som besto denne testen!

Sunny var også av bra eksteriørmessig kvalitet. På sin andre utstilling tok hun hjem NKK-certet bare 14 måneder gammel. Samme dag klarte hun 1. premie i lydighet klasse I. Sunny bestod også NKK's kåringsprøve for tjenestehunder og hun ble norsk utstillingschampion.

Sunnys mor var LARUN ELEKTRA. - En fantastisk avlstispe som fortsatt innehar rekorden over antall championavkom - 7 stykker - de fleste i samarbeid med CAN AM N UCH MEPHISTOS INTERMEZZO.
Avlsmessig hadde vi ikke flaksen på vår side. Det ble bare ett kull med én valp - som i tillegg skulle vise seg å bli kryptorkid - REXOB BOBBY SOX. Skuffelsen over dette var stor da han utviklet seg til å bli en eksteriørmessig flott boxer som den tyske rasespesialisten Karin Rezewski gjorde til BIR valp på NBKs utstilling i 1990.
Han bestod en glimrende funksjonsanalyse.

My first boxer was Larun Sunrise. Sunny joined the household on March 28 1984.

Secure and full of joy from day one - Sunny behaved as a puppy should behave. Unlike my unfortunate cocker spaniel. The books on dog-psychology could safely be replaced on the bookshelf.
As mentioned I had devouted a lot of time and effort in finding a breeder who shared my view of the importance of giving the puppies optimal social training during the first eight weeks of their life. Kennel LARUN could live up to all my demands - as the kennels female part, Unni Vestrheim, practically spent all her time with the puppies these crucial weeks.

Sunny continued her impressive mental development to the delight of both herself and her environment. Being extremely sociable,she became best friends with humans and dogs alike. Unlike many boxers she loved all her fellow-canines. In 1987 she passed the working ability test with flying colours. Thus achieving a written testimony of her mental health. Not all of us can boast the same. Sunny was the first boxer in Norway to pass this test traditionally reserved for German Shepherd dogs.

Sunny was also good looking. On her second outing, only 14 months old, she won the kennel-club certificate necessary to become a Norwegian champion. Thus having passed one third on the road to the championship, which finally was achieved in Tromsø in the north of Norway. On the same day that she was awarded the Kennel Club-certificate she managed an impressive first prize in obedience. Sunny also passed the Norwegian Kennel Clubs obedience test for working breeds (kåringsprøve).

Sunny was the daughter of LARUN ELEKTRA - An outstanding dam whose seven champion offspring still is a Norwegian record. The better part of these seven champions were the result of her affair with CAN.AM.N.CH. MEPHISTOS INTERMEZZO, the impressive Canadian import of Paul Scott (Kennel Formula).
Breeding-wise we were unfortunately not as lucky, ending up with only one litter which contained only one male puppy, who on top ended up as a cryptorchid- REXOB BOBBY SOX. The dissapointment wasn`t made easier by the fact that he was an extremely good looking fellow, who the German breed-specialist Karin Rezewski chose as her best of breed-puppy at the Norwegian boxer club in 1990. Mentally he was entirely on top however, as he later passed the working ability test in a most impressing manner.